Orion Starblast 4.5 Equatorial Reflector Telescope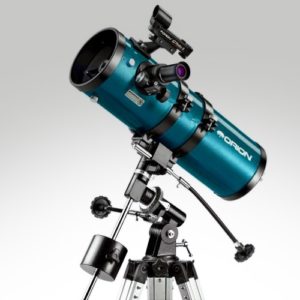 The Brownell Library has made available an Orion Starblast 4.5 Equatorial Reflector Telescope for patrons to check-out on a seven-day loan.
Prior to initial check-out, patrons will be asked to sign a user agreement that acknowledges eligibility requirements, a late-fee rate of $5 per day, and a replacement charge of $250 should the telescope become damaged or lost. You can view the user agreement form here: BrownellLibraryTelescope_UserAgreement
About the Telescope
The kit includes a carrying case, 6mm and 15mm eyepiece lenses, moon filters, an EZ Finder II reflex sight, and a fully-assembled stand. Please note: you must attach the optical tobe to the stand and insert your desired eyepeice before each use. The optical tube must be removed after use and secured seperately from the stand within the carrying case. All attachments must also  prior to packing the telescope back into the included carrying case.
Tutorials & Guides
When you check-out the telescope, you will receive a quick-start guide. You can also view it online by clicking here.
You can also look over the material below to learn tips on how to set up and use the telescope.
How to Set Up the Telescope:
How to Use the Telescope:
User Manual
A copy of the user manual is included with the telescope for patrons to use. You can access the full user guide online here: OrionStarblastEQ_UserManual