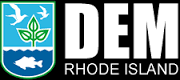 Rhode Island's Department of Environmental Management, Division of Fish and Wildlife, will present Wildlife Conservation and Wildlife Bingo.
Join us for a fun hour of learning about Rhode Island's amazing wildlife and local conservation efforts! Enjoy a game of "wildlife bingo," close up looks at natural artifacts, and a presentation by RI DEM's wildlife outreach coordinator, Mary Grande.
Thursday, July 13th at 11am.
All ages welcome!