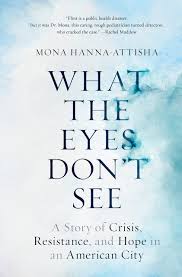 Living Literature presents a Readers Theater (s script adapted from literature) of What the Eyes Don't See, the true story of how Dr. Mona Hanna-Attisha, accompanied by an idiosyncratic team of researchers, parents, friends, and community leaders, proved that Flint's kids were exposed to lead. The story chronicles how she fought her own government, despite a brutal backlash, to expose this truth to the world.
Paced like a scientific thriller, this script shows how misguided policies, the withdrawal of democratic government, and callous bureaucratic indifference placed an entire city at risk.
The reading is for those who have read the book as well as for those who have not.