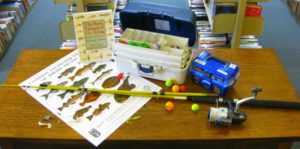 Fishing season has begun here in the state, so what better time to stop by the library and take out one of our freshwater (or saltwater) fishing rods and tackle boxes for a week?
To obtain a fishing license, follow the instruction on the RI DEM website:
http://www.dem.ri.gov/programs/managementservices/licenses/fishing-licenses.php
Once you've gotten your RI fishing license, come to the library, borrow a pole, and start catching your dinner. Please contact the library for loan terms and conditions.