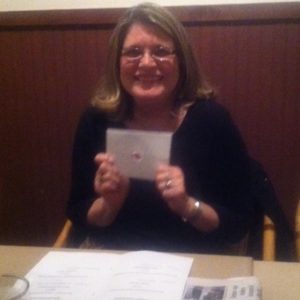 Saturday, April 11th, a crowd gathered at local restaurant, Crowther's, for the annual Volunteer Recognition night put on by the Little Compton Community Center to honor nominees from various organizations for all of their hard work. These volunteers, among countless others, work diligently to ensure that these organizations can run efficiently to serve the people in our community, and we appreciate each and every volunteer for every thing that they do.
This year, roughly 15 staff, and friends of the Brownell Library showed to offer support and thanks to our own nominee, Pat Christiansen, former staff member of the Library that remained as a volunteer after her retirement in 2013. Pat's tireless efforts have greatly impacted the function of the library, as she organizes and runs the Wednesday Nigh Book Club, covers the desk in times of need, and most notably to staff and patrons alike, creates beautiful and often elaborate decorative scenes within the children's room walls.
We don't know what we would do without Pat, and all thank her from the bottom of our hearts for the work that she has done and continues to do for us every week. THANK YOU, PAT!